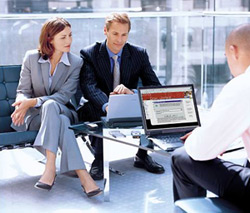 Customer Satisfaction in IT Solutions

Simultaneous to the exponential growth in technology is the ever-increasing need for Business IT requirements. While beneficial in many aspects especially with regard to time and ease, and a necessity for superseding the competition, the task is however a money-cruncher. From a myriad of IT service providers yet, rare are the quality service providers. Disappointment and bitterness are common experiences for many an IT customer even after heavy investments. It was in response to this growing market need for quality IT services that E-Com Solutions originated. Adopting a genuine customer centric focus with inclusive of the newest technology applications, we produce quality IT solutions. Not being confined to the software portion only, we also offer hardware components. Heeding to your requests and clearing the gray areas for you we ensure that your IT experience at this one-stop-IT Solution house is an exclusive and remarkable one.

About Us

A shared dream and an undying yearn by three passionate IT professionals for the establishment of an IT venture effectively resolving the existing gap for quality IT services saw the origination of E-Com Solutions (Pvt) Ltd. Established in April 2001 as a Partnership Company, E-Com solutions first commenced its business as a web-based solution provider and re-seller for PCs & peripherals. With a continuous acquisition of competency on leading cutting edge technology and effective feeding of the acquired knowledge onto a growing clientele's business requirements through a highly skilled and professional staff E-Com Solutions has enjoyed a continual growth and today it is a fully pledged Information Technology company. The winning ingredient for E-Com has been the professional philosophy put into practice by the professional team and founder members of E-Com.